How do I begin providing mystery shopping services for Confero clients?
You have already begun the mystery shopping process by visiting this page! To have the ability to apply for and be assigned to shops you will need to fill out your Confero Shopper Profile completely. Your Shopper Profile will contain important information such as your address, PayPal information, age, address, etc. Please also be sure to read and accept the ICA (Independent Contractor Agreement). Without accepting this agreement your account will not be considered to provide services to our clients.
May I provide services to more than one mystery shopping company?
As an independent contractor, you may provide your mystery shopping services as you wish. If you would like to provide services for other provider clients, we suggest that you make sure you register with reputable firms.
What is a Shopper Log?
When you register with Confero and complete your Shopper Profile you will have immediate access to your Shop Log. This is your "jumping off" point. In your Shop Log you will find all information regarding your shops, payment for completed and finalized shops along with links to your pending and accepted applications on the Job Board.  We suggest you visit your Shop Log often to check to see if applications you submitted were accepted and shops assigned to your account.
What is a Survey/Form?
After you complete your mystery shop or audit, you will need to report your findings to the client. The survey, or form, is where you will fill in all the information you gathered while mystery shopping or auditing your location. *TIP – it is always a good idea to read this survey/form BEFORE you mystery shop or audit the location you requested!
The MSPA; should I register as a member?
The Mystery Shopping Professionals Association is used by schedulers across the country to advertise opportunities offered by their clients. These opportunities are posted to the Opportunity Board. Once you register with the MSPA you will have access to their Opportunity Board and will have the ability to search for additional mystery shops or audits to conduct. The MSPA website is also full of information and helpful tips for you to learn how to provide the best services possible. Please https://www.mspa-americas.org/why-join/
What if I cannot complete the mystery shop or audit I requested?
As soon as you realize that you cannot conduct the mystery shop or audit, please log into your Shopper Log, click on the "Help/Contact" link found to the right of your mystery shop or audit to cancel. . We understand emergencies may arise to prevent you from contacting someone right away, but we do ask you to make every effort to give the scheduling team time to find a replacement mystery shopper or auditors.
Getting Paid
Payment policies, timing and methods are outlined fully on this Payment Policies page. Confero issues payment via PayPal. Confero will NEVER SEND YOU A CHECK OR ASK YOU TO DEPOSIT A CHECK AND TRANSFER FUNDS. If you receive this type of request, please tear up the check and report to the us, FTC and MSPA. Click here for  information about fake check scams.
What about taxes?
As an independent contractor, mystery shoppers, auditors and interviewers are responsible for reporting their own earnings.
PayPal, Confero's third-party payment issuer will issue a 1099 to your account if your earnings for the year are over their threshold for reporting requirements.
For the 2021 tax year, the threshold is $20,000, meaning that the combined amount you contracted for from all sources, including Confero, must be greater than $20,000.
Starting with the 2022 tax year, the reporting threshold will be $600, meaning that the combined amount you contracted for from all sources, including Confero, must be greater than $600.
Confero does not send 1099 forms to contractors. The IRS instructs us not to send 1099's to contractors who are paid via third parties.
Why is payment for an assignment I completed state "pending"?
When a shop is in pending status, it means that your shop is in queue for payment. After payments have been processed, the status will change to PAID.
Will I be notified when payment is made?
Yes. You will get an email message from PayPal stating funds have been received from Confero. You may also visit your Shop Log to see the payment status next to a mystery shop or audit you completed.
Will I be required to provide services to Confero clients?
No. You are not required to provide services to any client whose project does not appeal to you. However, professional courtesy is expected. if you do request and accept a mystery shop or audit assignment, please complete it.
Why can't I apply for a shop in my area that was announced in an email I received?
There are several reasons why this may occur:
Some assignments are "self-assign", which means you may assign the shop to your account, which in turn removes the shop from the Job Board. If you find your account does not have self-assign qualification, please send an email to support@conferoinc.com to request this qualification be added to your account.
The mystery shop or audit might have already been assigned to someone else. If this happens, after you submit your app you would receive an email notifying you that the audit was filled.
You might be choosing a date which is no longer available. Please make sure you are choosing dates which are not grayed out on the calendar.
I have not been receiving mystery shopper or audits I have applied to; what is going on?
Some higher-difficulty assignments require a rating of an 8 or higher. If you have just registered with Confero and have not yet completed an assignment,  your rating would be 5 and you technically would not be qualified for the assignment. However, you may contact the scheduler and express an interest in conducting the shop. Please remember, many mystery shoppers and auditors may have submitted apps for this shop and their account might fit the client requirement, which would cause them to be assigned before you.
On-the-spot Reward Shops – what are they and what is involved?
These shops involve you revealing the success of the mystery shop or audit after you have completed all steps required by the client. You will often be presenting a "prize" which is handed out to the successful employees and managers. These shops are fun and exciting to conduct! Most clients who have on-the-spot reward shop projects will involve sending the materials to your registered address and do require  someone to be at the address to sign for the package. Please make sure your Profile address is where someone will be available to sign for the package!
What are Presto InstaShops?
Presto is another way to find opportunities near your geographical location. Here you will find opportunities from various sources, which makes Presto another great tool to utilize when looking for contracting work. To gain access to this resource, register with Presto to view what is available on the map.( https://insta.prestomobilesurveys.com/site). Many companies post opportunities on Presto, including Confero. If you find an opportunity offered by a company, you may apply to it right away and you will be directed to that company's website where you may register as a mystery shopper and conduct assignments. Presto shoppers enjoy mobile-friendly reporting and quick payment!
What if I have forgotten my password to my Confero account?
If you find you cannot log in with the password you remember, please use the "forgot password" link under your login. If you are still having difficulty logging in, please send an email to support@conferoinc.com for further assistance.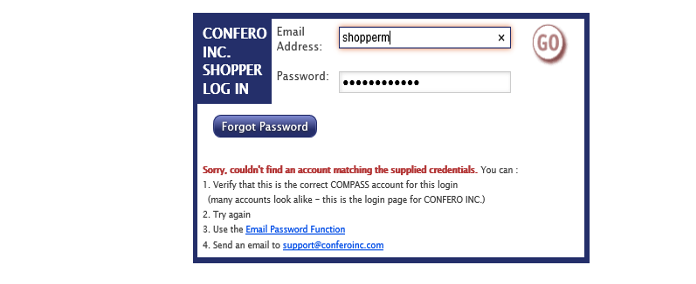 Changing email addresses:
Confero will never update, change, or add information in your shopper account. We take individual shopper privacy seriously and therefore will not share your information or change what you have entered in your account. If you need to update your email address or password, you will need to do so on your own.
If you need to change your email address in your Shopper Profile, please ensure it also matches an address at which you can receive PayPal payment. The email address on the Shopper Profile is the email address that automated payments will be sent out to PayPal.
Shopper Privacy:
Confero takes individual privacy seriously. Please see our Privacy Policy here.
If at any point you find you no longer wish to provide services to Confero clients, you can delete all information from your account by accessing the link in your Shopper Profile. This includes your name, address, email, phone number and all information you filled out at the time of registering. If you delete your account, we will not have any information to use to pay you, so be sure to wait until you have been paid for any outstanding shops or audits. If you simply wish for your account to be dormant for a while, you may deactivate your account, which leaves the information there and available for you when you wish to resume provide mystery shopping or auditing services.