Did you know that you can add a question to your existing mystery shopping survey to collect information on Net Promoter ®?
The Net Promoter Score is a powerful marketing metric that measures whether customers are likely to recommend your services to others.
It's an excellent indicator of future revenue growth. The metric is an index based on those who would "promote" your business, those who would "detract" and those who are neutral. This key element of using the NPS metric with your Confero Compass reporting is that you can see the score for your entire company, for a region, a district, a store or for any other hierachy configurations your program has.
Basic NPS Question: How likely is it you would recommend us to a friend?
The repondent may select from 0 to 10, with 10 being the most likely to recommend.
Many of our clients have added a question to their surveys regarding Net Promoter. And our Compass dashboard reports can show this score easily to keep it top of mind.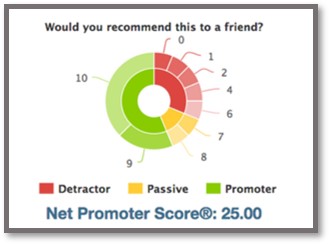 After all, since mystery shoppers report on other critical details about your locations, why not ask how likely it is that they will recommend your business? If you would like Confero to add this question to your survey, please contact your Confero Client Services Manager or send a request to info@conferoinc.com.
There is no fee for this added service!
And if you would like to learn more about Net Promoter Score, please visit this link.
"Net Promoter, Net Promoter System, Net Promoter Score, NPS and the NPS-related emoticons are registered trademarks of Bain & Company, Inc., Fred Reichheld and Satmetrix Systems, Inc."