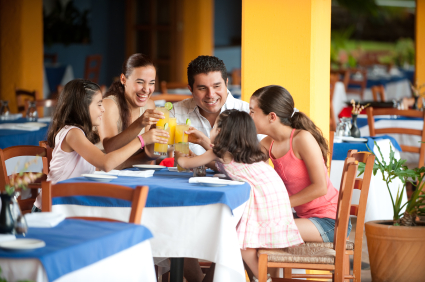 Nations Restaurant News recently reported in the article, "Restaurants put Marketing Muscle behind Kids' menus," that families are returning to restaurants. This is good news for restaurants that focus on attracting the family dining segment. Whether they use an e-mail blast, radio ads, table tents or a combination of communication methods, restaurants benefit from a family strategy that allows them to bring in more customers and deliver a dining experience that encourages families to return.
First Lady Michele Obama's emphasis on child nutrition has elevated the national discussion about children's menus in schools, restaurants and at home. It is likely that family dining experiences will be increasingly shaped by good-tasting, nutritionally sound menu offerings. Much is being done at many foods service organizations to meet the needs of parents who wish to serve more nutritionally-sound foods to their children. School cafeterias will offer healthier choices, including more produce and less sugary items. Michelle Obama addressed the National Restaurant Association in September and asked for restaurants to take meaningful steps to use more healthy ingredients in kids' menu items.
All this work to get the menu right will not pay off if the family experience inside the restaurant misses the mark. Now is a good time to consider the entire family dining experience—not just the menu choices.
To measure the family dining experience, the mystery shopping provider requires that shoppers bring several family members, including children, with them on the assignment. The results provide actionable feedback on what families encounter when interacting with your employees.
For example, if your restaurant offers these, did the server provide a coloring placemat and crayons? Did the employee go the extra mile and talk to the child and ask the child's name? Did the server show patience if they had to wait for a child to decide on a food or drink choice? Did the server ask the parent's permission before refilling the child's drink? Were TV's and other displays showing family-appropriate shows? These and other employee factors impact how frequently families visit your restaurant. With accurate feedback, restaurants can make training adjustments to improve the overall family dining experience.