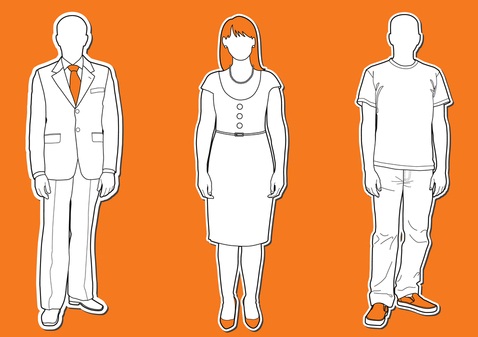 No manager wants to be in this situation: An employee arrives at work wearing something that does not fit with the company dress code. When this happens, usually the manager talks to the employee about what not to wear to work. Whether the inappropriate clothes are flip flops or short shorts, the conversation is necessary because most managers acknowledge that employee appearances go hand in hand with a positive brand.
Employees are your brand, regardless of whether front line associates interact with loan customers, restaurant diners or car owners. Employee appearances matter because they impact customer experience. Within the retail environment, uniforms and consistent dress codes allow customers to easily identify the employees who can assist them. Formal business attire can inspire confidence within banking, financial service and automotive sales environments.
The act of wearing a uniform or adhering to a dress code can help employees get into the mindset to serve customers.
Mystery shop programs allow you to keep an eye everything from employee attitudes and suggestive selling, to appropriate uniforms or style of dress. Program requirements include assessment of employee uniforms, cleanliness of uniforms, name badges, professional attire, logo attire and other apparel, such as visors, gloves, and aprons. More types of companies, including healthcare, assess employee appearance in conjunction with service delivery.
As an example, Medicare now looks at patient satisfaction scores as a determining factor for bonuses. A pool of funds is available to those hospitals that score higher than average on patient satisfaction scores, among other factors, making healthcare mystery shopping even more important. Barton Memorial Hospital in California recently enlisted the help of The Walt Disney Company to train its employees on better service. A key element of the training was delivery of personalized service. Because patient satisfaction includes patients' comfort level with all types of hospital staff members, Disney recommended unique apparel for different types of staff members, making it easier for patients and families to identify a staff person's job.
Beyond using uniforms or certain apparel to identify an employee's job, many companies use mystery shopping to learn if employees meet the company dress code. Legal dress codes allow companies to set reasonable limits, as long as they are "gender neutral," meaning that there must be dress standards in place for both males and females.
There are limits to requirements about employee appearance. While many companies establish policies regarding acceptable dress, grooming and appropriate hair lengths, management should not enforce these rules if they interfere with religious beliefs. Taco Bell recently fired an employee because he did not cut his hair when a manager asked him to do this. Now the employee is taking Taco Bell to court, because his religious beliefs forbid hair-cutting.
In most cases, reasonable expectations about employee appearance and dress, delivered through a fair dress code, promote a more consistent and positive employee look across locations. Companies need to strike a balance between company standards applied across the board, and the flexibility to meet unique employee needs – within legal limits.
To read more about the importance of employee dress codes, check out our article, "Dress Codes and the UBS Debacle."