Celebrating 33 years of Confero with 33 days of giving.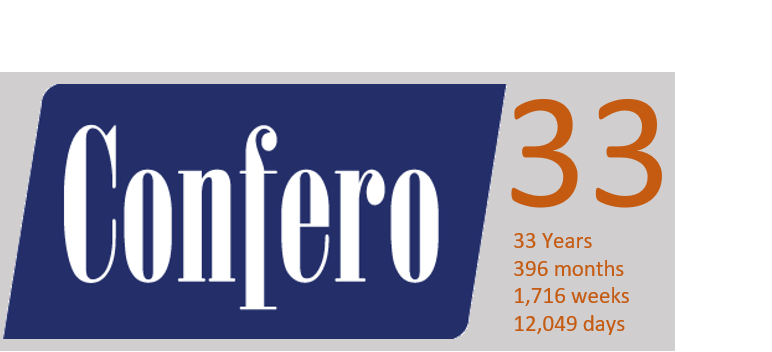 33 years in business brings to mindgratitude and celebration. I'm grateful to lead a successful business, Confero. Doing this has special meaning to me because of my company's history. My Mom formed Confero September 10, 1986, a time when it was unusual for women to own their own businesses. When she went to the bank for a loan to start the company, the loan officer asked her to return with her husband! This didn't stop my Mom and she soon formed the training needs consulting business she believed in. I joined Confero 3 months after start up. The company transitioned into customer experience research, to help companies serve their own customers well, a Confero mission which continues today. My Mom's determination to create Confero helped me develop my own resolve to grow it. I have been president since she retired in 1999.
To say thanks to clients, mystery shoppers, employees, suppliers, and friends who impact Confero'ssuccess, Confero will give back:  33 different donations or acts of service on 33 consecutive days. Some of the causes may be near to your hearts. I hope you'll check back starting tomorrow to see what we do or follow our journey on social media.
Elaine Buxton
President & CEO